It rarely occurs to us that the Moon has various colors, and is not perfectly grey. I discovered this during partial moon eclipse in October 17, 2005; see the lower left image above, as slight color variation was noticeable on the original photo. To enhance the colors this image was oversaturated using Photoshop. I went back to the previously made moon photos saved in RAW format in Dec. 7 2003 (top left image) and in July 2, 2004 (top right), and using 2 methods of saturation (Photoshop CS3) came out with those pictures. Image at low bottom was shot on October 10, 2007. According to SpaceWeather description, the blue areas are rich in iron-titanium oxide - ilmenite (FeTiO3) and the redish are rich in iron.
Size of the original of the eclipsed moon: 1200 x 1200 pixels.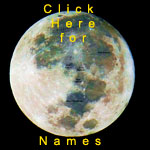 f/13, 1/180s, ISO 400.
Canon EOS 1Ds Mark II, F.L. 800 mm.
Below, a stereogram.