Dry Lakes Valley; the mountain in front is Little Horn Peak, and to the right is Fluted Pk. Made from the slope of Horn Peak September 15, 2008.
Photo Technical Data
Size of the original: 8630 x 3536 pixels (stitched)
Aperture f 8, exposure 1/180 s, 24 mm, ISO 100
Canon 1Ds Mark II, with Canon Zoom Lens EF 24-105 mm 1:4 L IS USM.
On the right: other photos from the same area.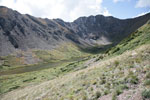 Fluted Peak & 2nd-4th Dry Lakes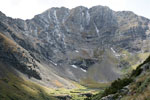 Fluted Peak