Lower Little Sand Creek Lake; 24 September, 2008. First thumbnail on the left shows the Upper Little Sand Creek Lake, both shots thanks to the courtesy of Westcliffe Search & Rescue team member Rich Metcalfe who hiked nearly 18 miles (via Music Pass) to make this photo. Behind the lake you can see Snowside Mtn. (middle), and Blueberry Pk. to the right (the highest), followed by Blizzardine Pk. on the right (Greenhorn Mtn. in the background between the two).
Photo Technical Data
Size of the original: 2592 x 1944 pixels
Aperture f 4, exposure 1/400 s, 15.4 mm, ISO auto
Canon PowerShotS500.
On the right: other photos from the same area.

Cleveland Pk. and the Lakes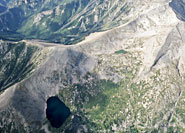 Cleveland Pk. and the Lakes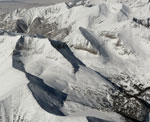 Cleveland Pk. in winter