Click on the thumbnails below to enlarge, click on titles to view anaglyphs: the

3D images requiring red/cyan glasses.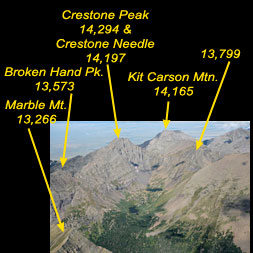 South Colony Lakes General View
Lower South Colony L.

Upper South Colony Lake

Stereoscopic view: size
comparison of Crestones
with Las Vegas Stratosphere
South Colony Lakes Valley s
This the highest area of the Central Sangre de Cristo Mountains (besides Blanca Peak).
Chain of Mountains: from the closest is Milwaukee Pk. (13,522'), Broken Hand Pk. (13,573), Crestone Needle (14,197), Crestone Pk. (14,294) and Mt. Kit Carson (14,165). The chain continues to the right and ends with Mt. Adams (13,931) and unnamed peak to the left (13,546). Behind it, a mountain facing St. Louis Valley is Gibson Pk. (12,816).
Broken Hand Peak: The main peak is to the right. The ridge continues and becomes Marble Mountain. The sharp peak behind on the left is an Pico Asilado, 13,611'.
Humboldt Peak (14,064) in front of the Crestones.
Upper South Colony Lake: (2d only) Crestone Needle appears the highest on this wide angle photo.
© 2007-9 PikesPeakPhoto. All rights reserved.