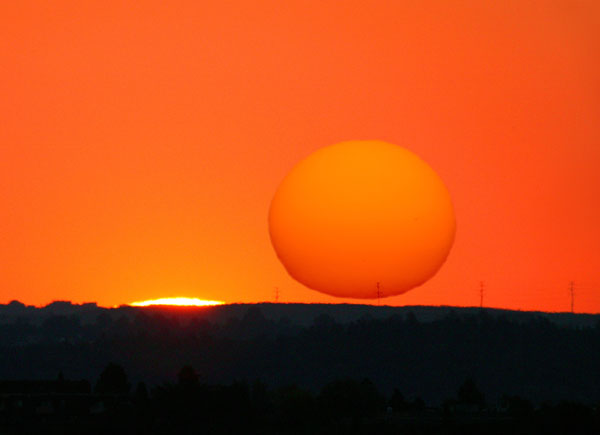 Twelve Seconds After the Lift Off
Two photos making up the above picture were taken at 3 min 11 sec interval. The background of the main photo was made at 12th sec. after the sun edge appeared - see lower part of the insert below. The orange sun above was not obstructed by earth for only 12 s. The 6th second of the sunrise is shown in the top insert. Note that the shape of the horizon is distorted by air fluctuation. Also, the air density gradient make the sun appear not perfectly round.

Photo Technical Data
Size of the original: 2571 x 1863 pixels
exposures:
background & the upper part of the insert - f8, 1/750 s, ISO 800
sun - f22, 1/8000 s, ISO 50
Canon EOS 1Ds with an 800 mm lens.

© 2003 PikesPeakPhoto. All rights reserved.