Extreme Sunset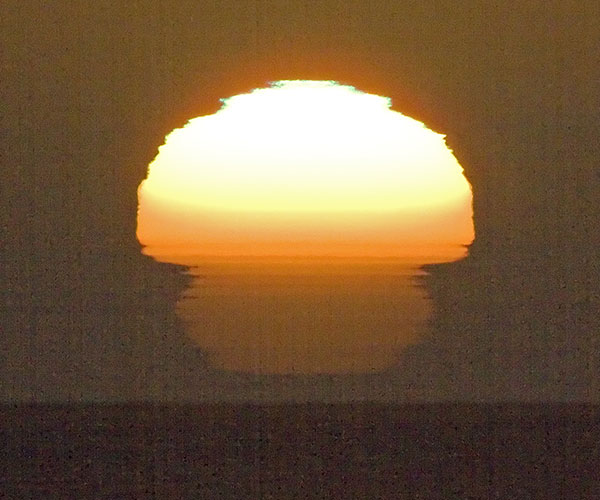 Various stages of the sunset made at a clear sky North California beach (0.5 mile walk from the Trees of Mystery, 40 miles south of Oregon border) on July 20, 2005. According to U.S. Naval Observatory
Astronomical Applications Department the sunset was at 20:45, so the sun was visible even over a minute after the sunset due to prism effect of the dense air. The 'famous' green flash is best visible here at 8:42:32 and 43:42, and a single shot is shown on a separate photo, made at 43:47. The green color actually exists in most of the images of the Sun. There is a huge red flash at late stagesas well. Note a sharp brightness change: shots were made from ISO 100, f/32 and 1/750s to ISO 1600, f/8 and 1/750s, a 1365-fold change of exposure within less than 7 minutes. A jellyfish-like shape is not the result of reflection from the sea - it's all in the air. The second photo was made at 20:42:20.

Photo Technical Data Photo Technical Data
Size of the original: 10000 x 1600 pixels, multiple shots
f/8 to 32, exposure 1/750 to 1/8000 s, ISO 100 to 1600
Canon 1Ds Mark II with Canon Lens EF 400mm 1:4 DO IS USM with Extender EF 2x II. Made on RAW setting, so that the two various exposure of 4 shots could be shown on this image.

On the right: a 200x300 pix cropped image from the original photo.
© 2005 PikesPeakPhoto. All rights reserved.