Canon PowerShot A590 IS
| | | | |
| --- | --- | --- | --- |
| Aperture Range [f] | 2.6-5.5 to 8 | Max Resolution | 3264 x 2448 (8M px) |
| Dimensions | 94 x 65 x 41 mm (3.7 x 2.6 x 1.6 in.) | Other Resolutions | 3264 x 1832, 2592 x 1944, 2048 x 1536, 1600 x 1200, 640 x 480 |
| Weight | 225 g (7.9 oz) | Sensor Size, Pixel Density | 5.75 x 4.31 mm, 32 Mpx/cm2 |
This is the same type of analysis as performed for the lenses, made on two resolution settings, 8Mpixels (max) and 5Mpixels (M1) in order to show that the 5M pixels setting gives almost the same resolution as the 8M pixels setting (read discussion below). The image quality on a camera's chip depends on the distance from the center of an image, as shown below, with the average resolution in hundreds of line widths per picture height (LW/PH) given below each chart.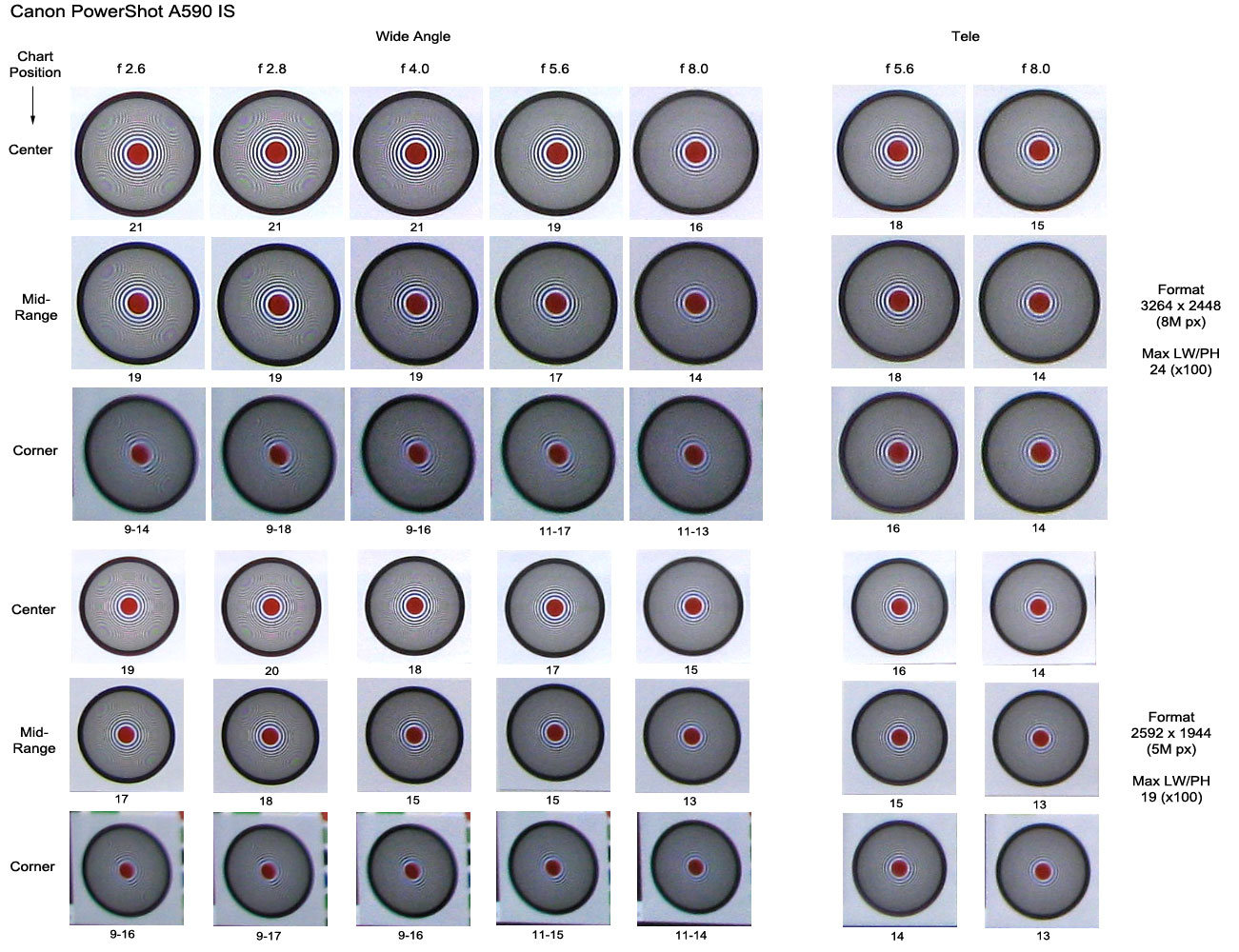 Opposite to full format cameras (24x36 mm) the sensor of this camera, 5.75 x 4.31 mm, combined with its lens, behaves quite differently, so that the sharpest images are produced at wide-open apertures. Images recorded at smaller format, 2592 x 1944 pixels, retain almost the same degree of detail as at its maximum resolution settings. The small differences in favor of the larger resolution settings, are likely due to error in reading the lines, as in it's apparent in Tele-zoom settings, the LW/PH readings should have been the same, because they are lower than 1944 lines, the theoretical resolution of the 5M pix mode.
The resolution reading is almost independent on the ISO-settings in the "L" mode (8M pixel) and more visibly goes down with increasing ISO on the 5M pixel "M1" mode, as shown below. The image quality on ISO 1600 is very poor.


It is puzzling why at max resolution mode (8M) the true resolution is around 5M. The first possibility is a poor lens quality, but another alternative is a sloppy algorithm saving JPG files (this camera does not have RAW - saving mode). This issue has been described in detail on this page.
Other lens properties. Vignetting is not bad, but it stays about the same throughout the f-stop ranges. Chromatic aberration is small. The only problem is the distortion at the picture sides. The size of the circles at the corners are about 6% smaller than in the center. That is perhaps a small problem when compared to a nearly 10% elongation of the circles (the ratio of extreme radii of the ellipse) in the corners.

This is a low cost point and shoot camera. It's true resolution does not exceed much more than 5 megapixel, with relatively strong distortions at wide-angle settings and even lower resolution but no significant distortions at the tele-lens settings. What really bugs me in this camera is a long lag time between depressing the shutter and making the picture (over a second) that prevents making controlled action shots.
© 2009 PikesPeakPhoto. All rights reserved.