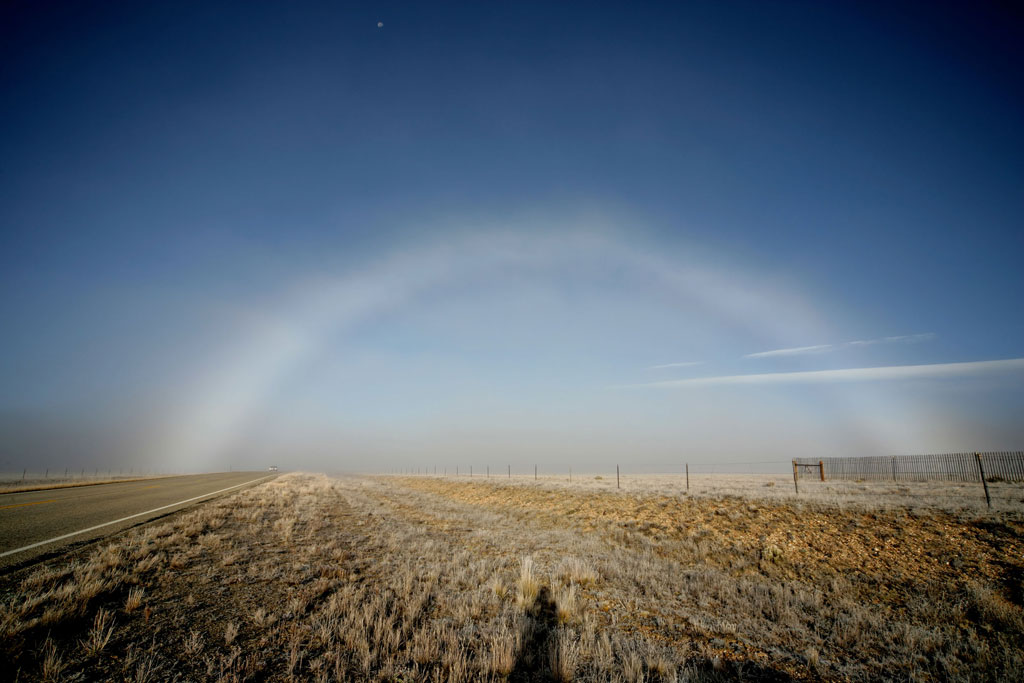 White Rainbow
White rainbow, also known as fog rainbow, is formed the same way as a colorful rainbow, but it forms only when very small water droplets reflect the light. Like a standard rainbow, it is about 42° circle. The fog droplets are around 10 μM or smaller so that diffraction effect is significant and randomizes the refraction (rainbow-causing) effect. The droplets are so little that the fog is barely noticeable or not at all, as seen on this picture. A "standard", visible fog makes pale-colored rainbows compared to rainbows made by rain water droplets. For more explanation see the Rainbow page or read "Rainbows, Halos, and Glories" by Robert Greenler (1989), the Press Syndicate of the University of Cambridge. The image was taken east of Harstel, CO on October 22, 2005 at 8:30 a.m.

Photo Technical Data
Size of the original: 4992 x 3328 pixels

Canon EOS 1Ds mark II with a Sigma 12-24mm 1:4.5-5.6 DG HSM lens at 17 mm.
© 2005 PikesPeakPhoto. All rights reserved.