I specialize in journalistic style wedding photography, however I cover any other events such as graduations, first communions, school performances etc. I use a professional digital camera, Canon EOS 1Ds Mark II with the brightest lenses available, so that I can make high quality pictures in poor lighting conditions. This is essential when NO FLASH PHOTOGRAPHY is allowed, as in those circumstances using point & shoot cameras is usually hopeless. Outdoor lighting provides a fresh and vibrant image that cannot be recreated with studio lighting. My preference is not to use flash (with a few exceptions) as the images in ambient light give more natural effect, an impression of beeing there again.
To see the service area that I cover at no charge for taking the trip please click on this thumbnail: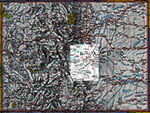 .
| | | |
| --- | --- | --- |
| | | |
| | Events & Other Assignments | |

© 2003 - 12 PikesPeakPhoto. All rights reserved.