Sangre de Cristo Mountains
This Range is about 200 miles long and spans from Salida, Colorado to Santa Fe in New Mexico. There are ten peaks over 14,000' high in this range, 74 over 4 km (13,123') high, and 86 over 13,000 high. All but three thirteeners are located in Colorado. The tallest mountains are in the central region. Click on the map below or here: North, Central, Blanca or South, to see higher resolution maps that link to the photographs of the specific mountains, mostly aerial.
Click on the Table to see a list the highest mountains of the Sangre de Cristo Range. The table entries give the corresponding GPS coordinates and they are linked to the web pages with aerial photographs.
Pikes Peak Photo PUBLICATIONS about Sangres (books and e-books).
This link contains also the SANGRE's WIDE LANDSCAPES gallery.
Click on the map links (brighter rectangles) below to see the area in more detail and enter the Sangre photo galleries.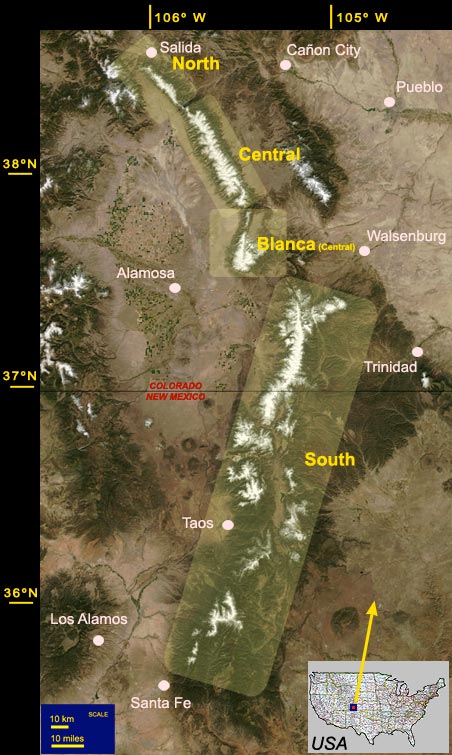 A good compiliation of articles about Sangres geology and wild flowers can be found on Wayne Anderson's UNI site.
© 2005-10 PikesPeakPhoto. All rights reserved.