e
Click on the thumbnails below to enlarge, click on titles to view anaglyphs: the

3D images requiring red/cyan glasses.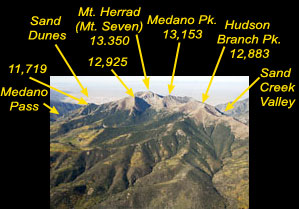 Medano Pass and Mt. Herrad (formerly Mt. Seven)
Medano Pass can be crossed by a Jeep. Road 559 leads from the east and 235 from Sand Dunes. There is a relatively short trail (3.5 miles) from the pass to Medano Lake.


Central Sangres, South Side
© 2007-9 PikesPeakPhoto. All rights reserved.