f
Click on the thumbnails below to enlarge, click on titles to view anaglyphs: the

3D images requiring red/cyan glasses.
Stupa in Baca Grande

Road to Crestone/B. Grande

Hummingbirds watching
their flowers
Mountains from Great Sand Dunes to Baca Grande viewed from San Luis Valley s
| | | |
| --- | --- | --- |
| | | |
| The Crestones in Fall | Challenger Point | Kit Carson Summit |
Stereoscopic Views
Views of mountains and valleys from Baca Grande/Kit Carson to Great Sand Dunes/Mt. Herrad. For Kit Carson Mtn.: Challenger Point (14,080) is on the left, Kit Carson in the center and Columbia Point (13,980) on the right.
Crestones & Kit Carson : in stereo (cross-eyes or parallel view formats) is available on this page.
Two Kit Carson Massif Summits (all historically named as Kit Carson Mountain)- Challenger Point and Columbia Point were named to commemorate the crews of Challenger and Columbia space shuttle disasters in 1986 and 2003, respectively. See the summary on Alan Silverstein page. Below are the photos of the commemorative plaques installed on the summits of Challenger and Columbia Points, made by Dwight Sunwall and Mike Smith, respectively. Poth "Points" have prominence over 300', and therefore should be named as "Peaks".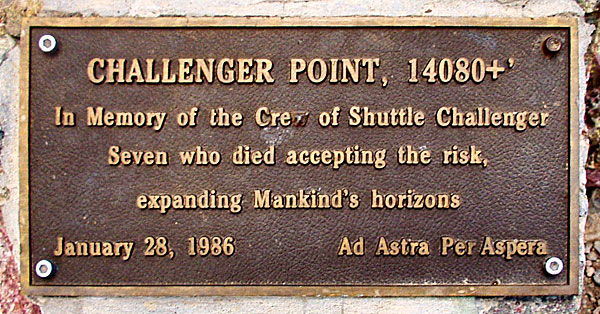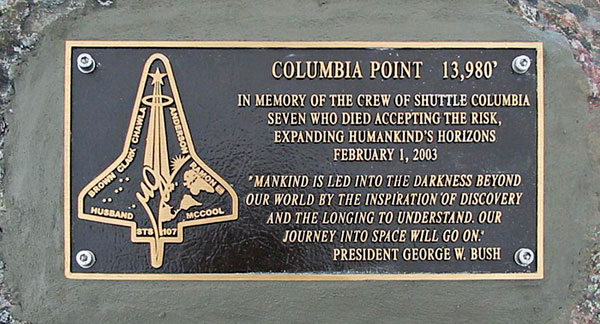 © 2007 PikesPeakPhoto. All rights reserved.